Offshore Streaming Servers
WebCare360 provides high-speed, low-latency streaming and IPTV services across the globe. Get the best quality offshore servers for audio/video streaming with advanced technologies.
Our global, high-capacity & robust network provides exceptional performance to customers across 5 continents. Network efficiency & stability is achieved through ongoing monitoring, optimization and quality arrangements with carriers worldwide. Our offshore streaming servers fit into every application seamlessly. The latest hardware stack combined with a superlative network is the right combination to power your perfect for streaming, IPTV & more. Get the speed you need today!


Lightning fast. Low latency. Seamless. Lag-free.
Our truely high performance, giganti & lightning-fast network is specially tailored to provide splendid experience for high-bandwidth projects VOD (Video On Demand), OVP (Online Video Platform) or Live Streaming platforms (IPTV). Our automatic re-routing software detects any possible problems on route to your end client , and re-routes the traffic immediately to ensures that your data is delivered instantaneously. Offshore Streaming servers requires flawness network connectivity to avoid any chances of buffering/lagging of live streams. So, un-metered offshore streaming servers from WebCare360 provides you a perfect solution that will keep you business profitable.
Lightning Fast, High Bandwidth & Reliable
Offshore Streaming Servers
We blend a best-in-class network mesh and mirror it across all our datacenter worldwide. With multiple transit providers connected to each datacenter and tied together to form one globally unified network.
Our resilient network backbone has high uptime and maximum reliability, built with redundant uplinks and fault-tolerant design for reliable performance. Enjoy unparalleled protection for your data!
Our streaming network is capable of succor low latencies and no saturation – at peak times. We accomplish this through network monitoring, routing adjustments, and use the of multiple Tier-1 carriers.
We will be able to match your bandwidth needs, whether you wish a low-cost package or dedicated access to the unthrottled bandwidth that they offer. Packages start at 100TB to 40Gbps un-metered .
Your server, your content! Our offshore streaming network provide the ultimate protection in content freedom, with their lax regulations and the ability to ignore illegitimate abuse and DMCA notices. 
In most of cases, we setup and deliver the streaming servers in less than 24-hours. The only exception to this is, if we don't have a server in stock or it is a custom order, it may take additional time.
Save up to 15% on yearly subscriptions
Choose Offshore Location & Package
Upto 20Gbps
Upto 20Gbps
100TB - 300TB
Upto 20Gbps
Committed to keep you online!
Upto 20Gbps
100TB - 300TB
Available Operating Systems
Ubuntu

Debian
CentOS
RockyLinux
AlmaLinux
Fedora
Windows
Own OS
Ubuntu
Ubuntu OS is an open-source operating system, developed by Canonical Ltd., and based on the Debian GNU/Linux distribution. The primary goal of Ubuntu OS is to provide a stable, secure, user-friendly platform for everyday computing tasks. It can be used as either a desktop or server operating system and its core components are all free and open source software.
Ubuntu is a strong platform for developing websites and building cloud services. It's technically powering many of the largest OpenStack cloud networks.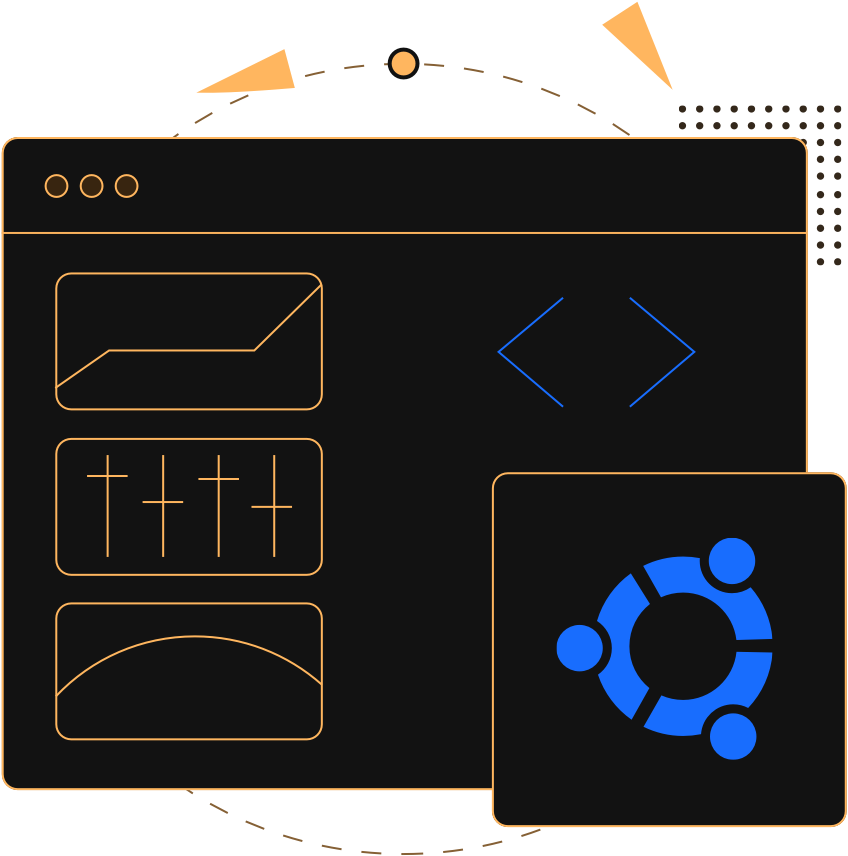 Debian
CentOS
RockyLinux
AlmaLinux
Fedora
Windows
Own OS
EASY MANAGEMENT WITH CONTROL PANEL
DMCA IGNORE Streaming Servers – IPTV Servers
WebCare360 provide high quality offshore servers for streaming audio or video, across the globe. Our offshore streaming servers cost less, works faster and more reliable than any other providers.
Dedicated Streaming Server are deployed on our dedicated network which is specially designed and setup for high quality video streaming, video on demand, Offshore IPTV Servers and other high traffic projects like CDN. Our high-performance streaming network is backed by over 2Tbps of total bandwidth with automatic route optimization to ensure the best network performance. Our specially designed Offshore Streaming Server enable you to easily deliver a stream to thousands of concurrent viewers without any unwanted buffering or delay. They are ideal for content delivery, streaming and other bandwidth intensive applications.
LOOKING FOR OTHER SERVICE
Secure your business with our 100% DDoS Protected Servers and Offshore Network! We provide a reliable, privacy-focused channel to keep your business safe and secure.
Affordable Offshore Servers
Offshore servers with amazing network connectivity and privacy focused features. Rapidly deployed and fully customizable, providing the perfect solution for your business needs.
FREQUENTLY ASKED QUESTIONS
Best Streaming Servers's Frequently Asked Questions
Stay connected. Get updates & news. Learn How-to.