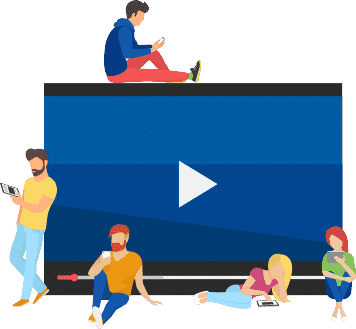 Offshore Streaming Servers
WebCare360™ offers superlative dmca ignore streaming servers. Our global, high-capacity & robust network provides exceptional performance to customers across 5 continents. Network efficiency & stability is achieved through ongoing monitoring, optimization and quality arrangements with carriers accross worldwide. Our offshore streaming servers fit to every application seamlessly. The latest hardware stack combined with a rock solid network is the right combination to power your mission critical and bandwidth intensive applications.
Global, high-capacity robust network
1Gbps, 2Gbps, 4Gbps & 10Gbps Uplink
True non-overshared network
Un-metered Traffic with No Caps
3+ fully redundant Tier 1 bandwidth providers
Cheapest in Offshore Hosting Market
Custom Script & Encoding Support on Demand
Our network is built for live streaming. Our automatic rerouting software detects any possible problems on route to your end client and reroutes the traffic immediately. This is a critical feature in case of a live event. Next to being able to deliver the high bandwidth servers required for live-streaming, we also have partners who can help you manage a livestreaming cluster with their software. They enable you to easily deliver a stream to thousands of concurrent viewers. 10 Gbps Servers for your high bandwidth requirements. Ideal for content delivery, streaming and other bandwidth intensive applications.

Large Resilient Network
We blend a best-in-class network mesh and mirror it across all our datacenter worldwide. With multiple transit providers connected to each datacenter and tied together to form one globally unified network.

Reliability & Uptime
Our web servers are housed in a range of world-class data centers, each of which is designed to provision a fully redundant service built for unbeatable reliability which gives you 99.99% network uptime.

IPMI / KVMIP / Console
Every Server we offer includes IPMI/KVMIP Remote Console access as a standard. We give you complete control over your server even when you can't access it via the Operating System.
Save up to 10% on
yearly subscriptions
All servers can be upgraded to

2bps

,

4Gbps

&

10Gbps

on order page.

Setup time vary between

1-3

days, depending on the stock situation.

Minimum contract period is of 1 Month with

*No

Refund policy for Dedicated Servers.

Child Porn, Hacking Activities, Spamming are not allowed in any situation.

Compliance with only local authoriries may be required.
DMCA IGNORE Streaming Servers – IPTV Servers
WebCare360™ provide high quality offshore servers for streaming audio or video, across the globe. Our offshore streaming servers cost less, works faster and more reliable than any other providers.
Streaming servers are deployed on our dedicated network which is specially designed and setup for high quality video streaming, video on demand, IPTV and other high traffic projects like CDN. Our high performance streaming network is backed by over 2Tbps of total bandwidth with automatic route optimization to ensure the best network performance. Our specially designed offshore streaming servers enable you to easily deliver a stream to thousands of concurrent viewers without any unwanted buffering or delay. They are ideal for content delivery, streaming and other bandwidth intensive applications.
We offer guaranteed port speeds of 1Gbps to 10Gbps in combination with our unmetered traffic with the benefit of enhance privacy and data protection for clients. Together with our partners, We also offer full stack solutions!